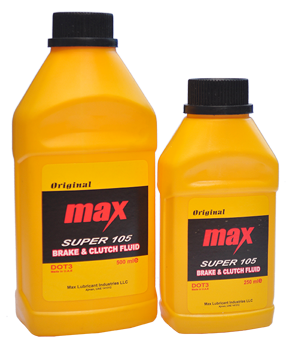 Max Super 105 Motor Vehicle Break Fluid exceeds F.M.V.S.S. No. 116 DOT 3 Specification and current specification S.A.E.J1703.
Typical Dry Boiling Point: 2250 C. Typical Wet Boiling Point: 1490 C
Suitable for all hydraulic clutch & Brake Systems except for those requiring Mineral Oil and can be mixed with all brake fluids confirming to the above specifications.
Follow vehicle manufacturer's recommendations when adding brake fluid.
Keep brake fluid clean & dry contamination with dirt, water, petroleum products or other materials may result in brake failure or costly repairs.
Store brake fluid only in its original container, Keep container clean & tightly closed to prevent absorption of moisture.