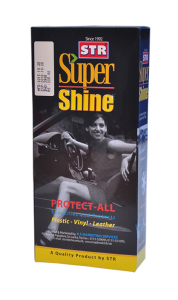 For Vinyl, Rubber, Leather, Plastic, Polisher & UV Protector, Protects & Beautifies, Restores Luster, Leaves a deep gloss shine.
Clean the surface and apply 'Super Shine' with a clean cloth or sponge (or spray) as needed and allow drying.
Use only as directed. Treated areas will be slippery. Not for use on vehicle controls (such as pedals, grips, steering wheels), motorcycle seats, wood floors, fabric or woven materials.