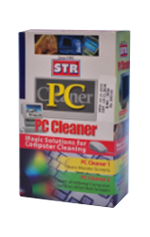 Two in One Pack, There are PC Cleaner 1 and PC Cleaner 2.
PC Cleaner 1 in Specially, Designs to clean electronic viewing screens such as computer
monitors and TV Screens
PC Cleaner 2 Cleans polishes and perfects all plastics, PVC and leather parts of computers
including CPU casing, Keyboard, Monitor casing and other accessories.
PC Cleaner 1,
§  Spray on to the computers screen on glass surface
§  Wipe with a day cloth or paper
§  Do not spray on to computer, keyboards and inside of computer and TV's,
avoid eye contact.
PC Cleaner 2,
On to the enclosed sponge on day cloth and wipe the areas to cleaned in circular motion.
Switch off the computer before cleaning keyboard buff with dry cloth for a smooth finish.
Keep out of reach of children