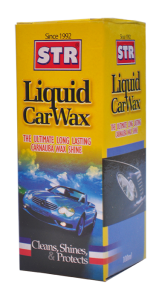 STR Car Wax is fast, easy and sunshine bright. STR Car Wax will professionally clean and protect your car's dull and faded finish as well as remove tree sap, tar and road film. This exceptional automotive wax will protect your car with a silicone finish all year long! You can also use STR Car Wax on household appliances, ceramic and chrome fixtures, etc. There is enough wax in this can to do at least two cars.
Shake can well before using. Make sure your car has been thoroughly washed before applying. Pour directly on soft cloth and apply in a circular motion.
Do not pour directly on your automobile's finish. Wait until wax dries completely to a dull haze and wipe off with another soft cloth, rotating frequently, for a deep, brilliant sunshine luster. STR Car Wax can be applied to the entire car surface before wiping off. It also can be applied in the sun.
Danger! Eye irritant. Harmful or fatal if swallowed. Contains petroleum distillates. If accidently ingested, do not induce vomiting. For eye contact, flush eye with water for minutes. Seek a physician immediately.