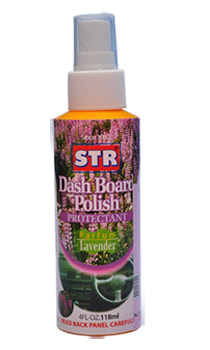 Reduces Ultraviolet Light that can cause fading
Restores luster leaving deep gloss shine
Non Toxic, contains no alcohol or solvents
Eliminates static electricity to reduce dust & dirt attraction
Dashboard Polish protection is unique polymer silicone formula penetrates and bonds to surfaces to protect and beautify vinyl, rubber, plastic and finished leather.
Dashboard Polish helps protect surfaces from fading and cracking by reducing ultraviolet light, while bringing out color, restoring luster and shine, Protects against abrasion. Eliminates static electricity to reduce dust and dirt attraction! If less shine is desired lightly buff with damp cloth.
Thoroughly clean surface with a safe high quality cleaner like Dashboard Polish cleaner
Apply Dashboard Polish protection with a clean cloth or sponge (or spray).
Spread evenly, allow to penetrate and chemically bond for a few minutes, then remove excess for a beautiful protective shine. On some surfaces a two coat application provides best results. Apply as needed to maintain shine and protective coating.
Use only as directed. Protection products may cause slipperiness on floors, vehicle controls (such as pedals, grips, steering wheels) and bench types or cycle seats or cycle tires where slipperiness may be dangerous due to loss of control. May cause smearing on glass or dash lens clusters.