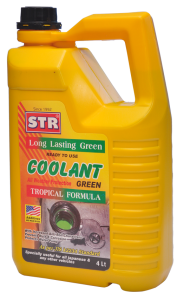 STR Green Coolant is a ready-to-use formula. STR Green Coolant prevents hard water deposits that can occur with the use of tap water. STR Green Coolant can be used as a top off product in all vehicles including heavy-duty vehicles with diesel engines.
To Top Off: Remove coolant recovery tank cap and fill to the Full Cold Mark. Also add to radiator to within 1 inch of radiator neck. Replace recovery tank and radiator caps securely.
Drain-cooling system following owner's manual.
Fill with STR Green Coolant.
Run Engine to normal operating temperature with heater on high. Turn off engine. Allow to cool. Check coolant level. Add STR Green Coolant as necessary. Remove old coolant from recovery tank and fill with STR Green Coolant.
STR Green Coolant :
Easy, ready-to-use formula
Mixes with anti-freeze solution.
Convenient for topping off
Prevents engine damage & overheating
Protects aluminum and other metals
Prevents rust and corrosion