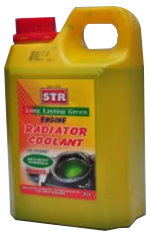 JIS K2234 Standard
STR Green Radiator Coolant extends the efficiency and protects the
automotive cooling system from overheating as freezing all year long,
Help step rust and cassation in the system. Lubricates water pump seal,
thermostat and pressure cap, Present damaged to engine by dispersing
heat faster, will not damaged any rubber and metal parts in the water pump.
Mix with any Anti-freeze solution, Contains Mono Ethylene Glycol.
Shake well before using entire contents to radiator.
Recommended maximum dilate 1:1 with De-ionized battery water.
After using this product, of system continues to overheat that the can
should be checked by a cooling system specialist, because a
mechanical malfunction may be indicated
Keep out of reach of children