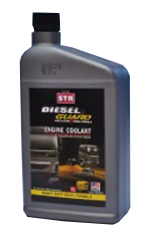 JIS K2234 Standard
Diesel Guard Formula specially designed for heavy duty diesel applications.
The engine formula in also unionized the formation of foam in the cooling system
metals and provides excellent wet slean lines canitation protection.
On-road vehicles (Buses, Lorry, Truck) off-road form, mazing and all diesel cars
Shake well before using & entire contents to radiator. Check the specified level of
extra tank. After using this product, of system continues to overheat, that should
by checked the can by a cooling system specialist, become a mechanical
manifestation may be indicated, Do not dilute.
Contains Ethylene Glycol harmful as fatal swallowed. If injected induce vomiting
and call a physician immediately. Do not stone open or unlabeled confirms
Keep out the reach of children